The Thinksoft Global Services offshore center is located at Chennai, Tamil Nadu in India. Visitors to our centre can explore the city of Chennai and experience its rich and varied culture, fine cuisine and the warmth of its people.


About Chennai
CHENNAI - CITY OF THE HOLY SERPENT

Chennai is the largest city in southern India. It is located on the Coromandel Coast of the Bay of Bengal. In 1639, the British East India Company established a fort and trading post that transformed this small fishing village into a major city.

Places of Interest:
Fort St. George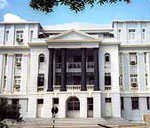 Built by the East India Company in 1639-1640, the fort marks the growth of Chennai into a modern city. It was one of the first bastions of British Power in India. Today the fort is used by the state legislative assembly and as the secretarial offices of the Government of Tamil Nadu.
Fort Museum
This museum contains many relics from the tenure of the East India Company and British India. It also has a collection of contemporary paintings.
Kapaleeswara Temple

The temple is the biggest in the city and is dedicated to Lord Shiva. The temple contains inscriptions dating back to the 13th century AD, and is a fine specimen of the Dravidian style of architecture. Its 37-metre gopuram is especially noteworthy for its intricate carvings depicting tales from Hindu mythology.
The Marina Beach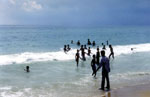 Lining the east of the city is the famous Marina Beach. This is supposed to be the second longest beach in the world and runs to a length of 12 km. The beach can be ideally visited in the early mornings or in the late evenings, when the area becomes a virtual fair ground; with food stalls and entertainment acts.
The Theosophical Society


Chennai is the fountainhead of the theosophical movement. The Theosophical Society is located along the Adyar River. Discourses are conducted here under a huge banyan tree which spreads to almost 40,000 sq. ft. of area. It is open from 8 am to 11 am and from 2 pm to 5 pm, Monday through Friday and, from 8 am to 11 am on Saturdays.
---
Tourist Information Offices
Government of India Tourist Office, 154 Anna Salai, Tel.: 8510459, 8524785, 8524295; Airport Counter (Domestic Terminal) Tel.: 2340386; (International Terminal) Tel.: 2345801. 24 hrs. Email: [email protected]
Tamil Nadu Tourism Development Corporation (TTDC),
143 Anna Salai, Tel.: 830498.
ITDC, 29, Commander-in-chief Road, Tel.: 8278884.
Dept. of Tourism, Govt. of Tamil Nadu, Panagal Building, Saidapet, Tel.: 459488, 451694.
---
Hotels
Address
Le Royal Meridian
No.1, G.S.T. Road, St. Thomas Mount,
Chennai - 600 016.
Tel: 044 - 22314343
Fax : 044 - 22314344
E-mail : [email protected].
Marriott Courtyard Chennai
No.564, Anna Salai Chennai - 600018, India. Phone: 91-44-66764000
Fax: 91-44-66764001
Taj Coromandel
No.17, Mahatma Gandhi Road, Nungambakkam,
Tel: 8272827
Fax: (044) 8257104, 8270060.
Welcomgroup Park Sheraton Hotel and Towers
No.132, TTK Road,
Tel.: 4994101
Fax: (044) 4997101.
Welcomgroup Chola Sheraton
No.10, Cathedral Road,
Tel: 8280101
Fax: (044) 8278779.
The Trident
No.1/24, GST Road,
Tel: 2344747
Fax:(044) 2346699.
Connemara Hotel
Binny Road,
Tel: 8520123
Fax: (044) 8523361.
Hotel Ambassador Pallava
No.53, Montieth Road,
Tel: 8554476
Fax : 8554492.
Chennai International
No.693, Anna Salai,
Tel: 8524111
Fax: (044) 8523412.
Eating Out
A variety of Indian and world cuisine is available in this metropolis. All deluxe hotels and most standard hotels have multi-cuisine and specialty restaurants. Besides these, there are numerous stand alone restaurants across the city.
Shopping
Chennai is one of the important trading centers of South India. It is a good place to shop for an assortment of things. The Victoria Technical Institute on Mount Road has many retail outlets that sell traditional handicrafts and handlooms from the south. For silks, you can visit Srinivasa Silk, Nalli and Kumaran Silks at Theyagaraya Nagar and B.M. Silks at Mylapore. For textiles and gold ornaments, the best places to shop are Mount Road and Theyagaraya Nagar.
Parry's Corner is one of the biggest markets in the city and deals in wholesale as well as retail trade. Nearby is the famous Burma Bazar, where you can find imported goods ranging from electronic gadgets to ready-made garments, and perfumes.
Chennai also has many shopping malls such as Alsa Mall on Montieth Road in Egmore, Spencer Plaza on Mount Road, and Prince Plaza on Pantheon Road and supermarkets including Nilgiris and Chintamani. For those who are looking for traditional bell metal items, bronze icons, stone sculptures and other crafts of the southern region, the best place to shop is the Tamil Nadu State Emporium - Poompuhar.