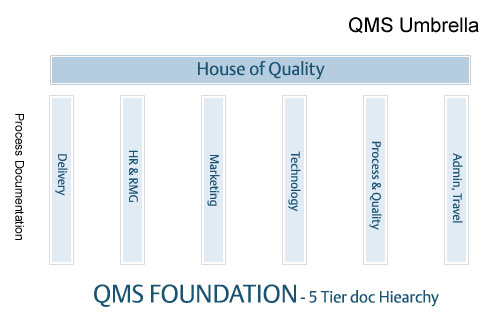 Thinksoft Quality Management System has integrated the requirements of ISO 9001: 2000 and ISO 27001:2005 (Information security management system). The requirements of both of the standards have been understood, interpreted into Thinksoft Business specific requirement and deployed through a 5 tier documentation hierarchy.
Thinksoft Documentation Pyramid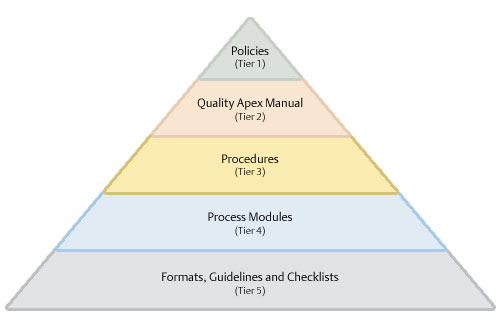 Policies: These are high level documents that reflect the intent of the business and provide direction for evolving processes with required controls
Quality Apex Manual: This is a document that describes the business objectives, the infrastructure, the organisation structure and the processes through which the customer requirements are met
Procedures: These are middle layer documents that defines the step-by-step sequence of activities to be carried out for achieving specifc process/standard requirements
Process Modules: These are the documents that defines the activities to be carried out by the process owner and the associated interfaces. This document is designed in a flow model to clearly define the roles of all interfaces with the process owner in order to meet the common goal
Standards: Standards would ensure uniform application of a policy. Standards are used as reference points to ensure organisational compliance
Guidelines/ Standard Operating Procedure/ Templates: Guidelines are intended to provide advice pertaining to how organisational objectives might be obtained in the absence of a standard. The purpose is to provide information that would aid in making decisions about intended goals, and actions that would not create problems
Information Security Management System
This foundation of the Information Security Management Systems Framework rests on the Information Security Policy document and intends to provide the direction and support of the management for information security, taking into account the requirements of the business and in compliance with applicable legal and regulatory requirements.
Thinksoft's Business requirements dictate that information resources that pertain to customers are kept secure. Thinksoft's Business Model has been designed customer-centric and high level of confidentiality is provided to each customer, through strategic Business Units with dedicated client networks.
The Information Security Policy embraces the allied policies that are required, to bring in the controls as required by the standard and the procedures / standards required for effective monitoring of Information Security Management System.